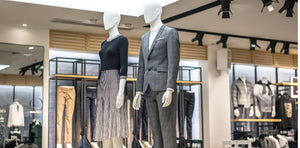 What You Will Learn
One can learn the fundamentals of displaying fashion merchandise in a manner that appeals to a potential customer while understanding factors such as colour, display and aesthetic folding techniques.
Why You Should Learn It
At the end of the program, learners will be able to execute appropriate in-store display as per brand norms. Get a overall understanding of display techniques, color, décor, lighting and styling, thematic strategies.
How Will It Help You
You will not just learn best-practices to improve your sales and enhance your productivity, it will lay the foundation to transform you into a sales leader. And when all is all done, you will be pleased with your enhanced ability to gain new business.
VM Overview & Preparation
Size Grouping
Visual Checks
Display Planning
Concept of Colour Blocking
Colour Palette
Colour Wheel
Colour Principles
Techniques of Colour Blocking
Learn about 6 different types of colour blocking techniques and underlying principles.
Presentation Techniques
Learn about 4 different types of merchandise presentation techniques and underlying principles.
Folding Styles
Learn best practices in folding merchandise of different types.
Window & Sale Display
Learn the basic principles of window and instore display such as lighting focal point and more.
Certification Quiz
A comprehensive quiz assessment to ensure you have grasped all the concepts. The results will have a significant weightage in your total score.
Who is this program for?
Anyone who is working or wants to work in the Apparel industry. This course is a great way of consolidating existing knowledge, updating your skills and contributing towards your professional development. It is also one of the most practical steps you can take towards working towards gaining a promotion or better-paid position.
What are my career prospects?
A career in sales can be extremely rewarding. Those who perform well and excel are rewarded for their efforts more so than almost any other profession. You can find yourself working as Fashion Consultant, Store Manager, Sales Manager, Customer Service Expert, Store Operations Executive, Sales or Marketing Executive and in any other related customer-oriented roles.
What is unique about this program?
This is a one-of-its-kind program with highly interactive content, exclusively developed by experts with over 20 years of experience. For those who successfully complete the program, you'll have a magical edge and a fast paced career.
Are there any pre-requisites to this course?
There are NO previous work or education requirements for enrolling in this course.
What do I get post enrollment?
Upon enrollment, you receive the access to the online course that you can avail at your own pace from the convenience of your home or elsewhere. You also get email post-course support where we help you clarify any queries you may have.
How will I be assessed?
At the end of the course learners will take an online multiple choice question assessment test. This test is graded automatically so you will receive an instant evaluation and know whether you have passed the course. Upon successful completion of the quiz, you get a certificate that you can share with your network on Linkedin.
What is the money-back guarantee?
Upon enrollment, you receive the access to the online course that you can avail within 30 days from the convenience of your home or elsewhere. You can also opt for Friendline or My Coach support program where you can nominate a peer/superior to improve your performance. In the unfortunate event where a Learner has not been able to gain any knowledge even after opting for dedicated support programs, can claim their refund.